MSM ProMedico Sphinctometer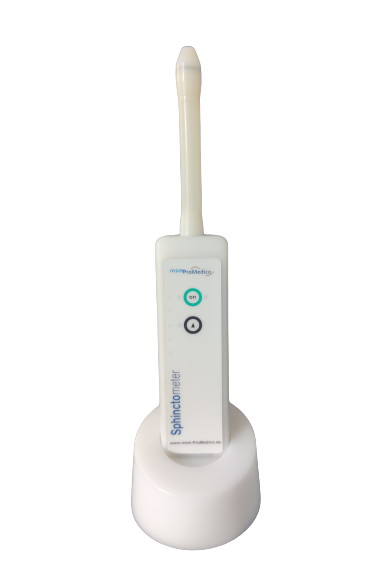 MSM ProMedico Sphinctometer
By using the Sphinctometer the measuring of a Manometry (measuring the function of the Sphincter) has become easier and comfortable.
During the patient-friendly measuring procedure, the device determines the exact value of the contraction of the anal sphincter in mmHg. These values (measurement of the resting tonus and the strength of the voluntary contraction) are sent to the computer or the optionally delivered tablet via bluetooth / USB.
By means of SphinctoDat Software the course of treatment of each patient can be individually reproduced and saved. Thus the doctor receives an exact documentation of the data over a longer period.
Advantages:
Pleasant and safe measuring technique for both, doctor and patient
Objective determination of the anal tonus and the voluntary contraction force of the sphincter
Comfortable and exact documentation via the software
No disturbing disinfection as a result of the provided protective cover
Each instrument is individually manufactured and inspected
Handy and modern design
Certified by the German Association for Technical Inspection (TÜV), CE 0044
Billable by GDA
Contact us for more information
About Us
Based out of Vadodara and Mumbai, Medtech Devices is a knowledge-based company, specializing in offering Medical Devices and Solutions in the fields of Anaesthesia and Coloproctology.